VentriFlo True Pulse Pumps
Blood Flow The Way It Should Be
The VentriFlo True Pulse Pump is a novel, truly pulsatile blood pumping system designed to achieve superior outcomes, reduce costs and improve safety for pediatric & adult patients who require cardiopulmonary support during surgery or in the ICU.
The VentriFlo® True Pulse Pump™ is in development, for Research Use Only and Not For Human Use, and is not for sale.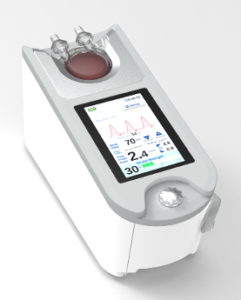 Unlike current continuous flow technologies, VentriFlo delivers complete stroke volume, natural cadence, and physiologic rest, just like the human heart.¹
Single‐Use Consumable: Scalable pump with flexible membrane, plastic housing and valves.
Pump Driver: Linear electromagnetic motor that couples directly to the membrane driving the biomimetic waveform.
Control Console: Small, electronic system that directs the pump driver based upon pre-defined waveform algorithms and user input.
¹ASAIO 62nd Annual Conference ‐ poster presented by G. Sunagawa, et al. "New Technology to Achieve True Physiologic Pulsatile Flow during Cardiopulmonary Bypass." (June 2016; San Francisco, CA)
Save
Save
Save
Save
Save
Save